Call Center Automation With Self-service Tool
Self-servicing tools, such as IVRs, ACDs, and Intelligent Routing, are becoming increasingly popular in modern call centers. IVRs, or interactive voice response systems, allow customers to interact quickly with a pre-programmed system and get responses without speaking to a live agent.
On the other hand, ACDs are automatic call distribution systems that route incoming calls to the next available agent, ensuring no customer is ever left waiting in the queue.
Intelligent routing works similarly but uses AI technology to route calls to agents with the best skill set or experience for that particular customer.
These automated solutions use natural language processing (NLP) to provide personalized customer service experiences by interpreting the customer's words. This speeds up the customer service process and reduces the workload on agents, allowing them to devote more time to urgent cases.
Proactive Communication With Your Customers
As the customer service industry evolves, personalized communication programs replace traditional outbound campaigns.
These proactive campaigns use AI-powered algorithms to analyze customer data and send messages with relevant offers, discounts, and new services. This allows companies to anticipate their customer's needs and provide more tailored solutions that will benefit both the customer and the agent.
Unifying Customer Communications Across Channels
Utilizing omnichannel tools is essential for efficient customer service. Modern call center software enables organizations to manage multiple communication channels from one platform, such as email, phone, chatbot, and social media.
Here are more ways a multi-channel platform can help you:
Gives Businesses a Better Context for Their Customers: Since all the information you need is stored in one platform, your team can better understand the customer's concerns and provide personalized service.
Resolve Customer Issues More Quickly: As with the previous benefit, resolving a customer's concerns is much easier if all the information you need is stored in a single platform. With omnichannel software, it's easier to backtrack past customer interactions and quickly find the best solution for their problems.
Sales Agents Can Identify Better Opportunities for Future Sales: Integrating empathy in sales calls is a must-have in today's competitive market. By integrating customer interaction data, call centers can identify possible sales opportunities and provide more tailored solutions to their customers.
Real-time Resolution for a Better Customer Experience
A first-call resolution is much easier to achieve with a tool that integrates customer data and provides customer service agents with real-time analytics.
Real-time resolution tools enable agents to quickly find the best solution for the customer's problem without needing to switch between multiple windows or consult other team members and managers. This speeds up the process and ensures that customers receive a consistent level of service, regardless of which agent is handling their case.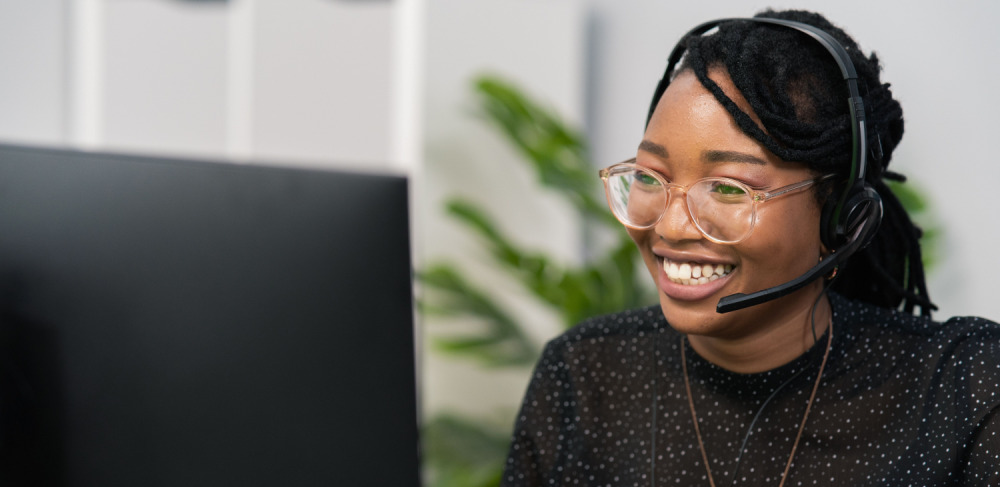 Real-time Insights With Contact Center Analytics
Data is everything in a call center environment. This means that having the right analytics tools is essential for tracking customer service performance and identifying potential issues before they become significant problems.
Analytics tools enable call centers to monitor customer interactions in real-time and identify the best call-taking strategies. This data allows managers to adjust their approach quickly, ensuring that customers receive top-notch service.
Achieve It All With Diabolocom
You only need one call center software to achieve all these trends and conquer 2023. Diabolocom's cloud-based platform offers a comprehensive suite of features that enable you to manage all customer communications from one place.
With Diabolocom, you can easily customize your customers' journey and ensure their satisfaction. It's also easy to automate your processes using our intelligent IVR and ACD systems and monitor real-time analytics with our comprehensive CRM integration technology.
Here's how Diabolocom can help you double your productivity and supercharge your customers' satisfaction :
Multi-channel Communication Management
You can efficiently manage all of your outgoing or incoming calls, emails, SMS, and chats from one place. This helps reduce customer service response time while ensuring uniformity in your communication policies. You'll never have to worry about customers slipping through the cracks again.
CRM Tools Integration
Diabolocom is partnered with leading CRM tools to give you access to all the customer data you need in one place. This makes it easier for your team to provide a personalized experience while streamlining customer interactions. Here's a quick list of all the tools you can integrate with our platform:
You can also easily integrate your in-house CRM tool with our platform, enabling your team to quickly access customer records in one click.
Local Customer Support
Did you encounter any problems with our platform? Or maybe you're new and want to learn more about our features? Diabolocom offers local customer support, regardless of your query. Our dedicated technical support team is here to help you with whatever issues you have.
"We benefited from a customized support. The implementation went very well, with positive user feedback. The recipe for our joint success: close support with a guaranteed commitment from all the teams. Diabolocom: a true partner."

Olivier Flattet – Head of Prospects Call Center, Bouygues immobilier*
*Source : AFRC magazine, November 2022.
Conquer 2023 With a Reliable and Comprehensive Call Center Software
Development is in store in many sectors for the upcoming year. If you want to stay ahead of your competition and optimize the customer experience, you need to have the right call center software in place.
Diabolocom has all the features you need to take your customer service performance to the next level. With our cloud-based platform, you can easily manage all your communication channels from one place while providing real-time resolution for a better customer experience.
Are you ready to conquer 2023? Contact us and schedule a product demo to see how we can transform your customer service operations today.
Curious to know more about Diabolocom?