Optimize your opportunity conversion with Web Call Back
Add a call-back button to your website and eliminate waiting time, manage incoming call traffic and personalize your interactions.
Reduce phone waiting times
With Diabolocom's Web Call Back solution, your customers will receive a call-back immediately or at a later time, depending on their availability.

You can offer a choice of several time slots from which the customer can pick a time that suits them best.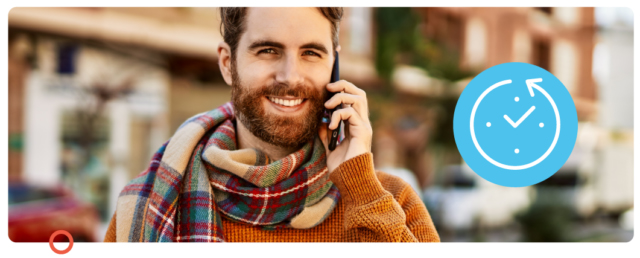 Effectively manage incoming call traffic
Spread out call request load among advisors according to working hours, staff availability, areas of expertise and query type.

Process call requests as they come as soon as an advisor is free, or through structured campaigns assigned to specific teams.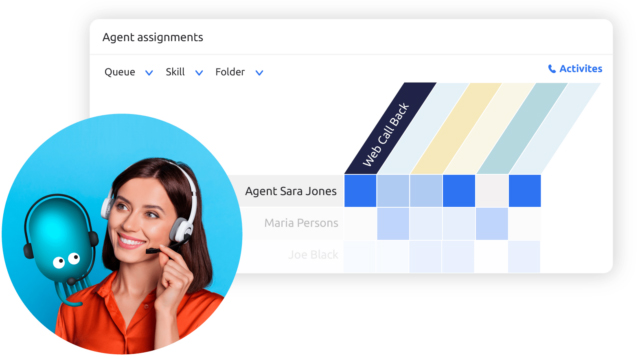 Personalize your interactions with Web Call Back
Improve customer insight and request pre-identification thanks to a contact form filled out online by the customer prior to the call.

Place your conversations in context: the call-back button allows you to identify the reason for the request via a drop-down menu.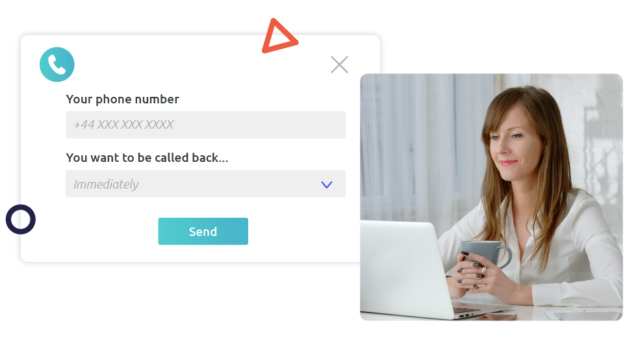 The Web Call Back solution by Diabolocom helps you improve profitability and conversion rates
Frequently Asked Questions
What is a Web Call Back?

Basically, the Web Call Back is a call-to-action button for your website that allows the internet user to request a call back at a time that suits them or as soon as one of your advisors is available.

This call will be scheduled by a representative to a contact number. The telephone is an "easy access" channel that requires little effort from the call receiver, making it a particularly popular choice. 

Still widely acclaimed by customers, it is less intrusive than a conversation carried out via other communication channels.
How do I install the Web Call Back feature?

With our easy set-up (just a few lines of code to integrate into your website), the implementation of the Web Call Back is very straightforward. Thanks to our Diabolocom plugin, you can personalize your call-back prompt buttons and windows: graphic identity, displayed number, sound notifications, call forwarding, schedule management, public holidays…

How does the Web Call Back work? It's simple: add however many call-back prompt buttons you want to your website, allowing you to put your customers and prospects in touch with your call center advisors.

Don't miss out on any more sales opportunities!
What are the advantages of the Web Call Back?

As for your advisors and call center team, the Web Call Back offers:

Better query pre-identification.

A simpler way to get in touch with your customers and prospects.

More personalization.

Valorization of customers and prospects as well as the advisor and the brand they are representing and

alleviated workload and improved call request distribution between advisors.

A

lleviated workload and improved call request distribution between advisors.

The Web Call Back is a mean to simplify your interactions and retain prospects and customers. It will help you to turn your call center into a sales channel!
Why does the callback button boost conversion rates?

The customer or prospect gives you clear permission to call them, meaning that interaction won't feel intrusive.
A prospect who asks for a callback is often more likely to progress to the conversion stage.
Talking to a prospect on the phone can be far more effective than talking to them by email.

Additionally, the callback button helps your customer to avoid facing long waiting times before being put in touch with your call center or customer service advisors.

In just one click, your customers and prospects can skip the dreaded "pain point" experienced in phone waiting queues and can be contacted by your support or after-sales team to handle their request and quickly resolve the issue.
How does the Web Call Back contribute to the comfort of your advisors?

The Web Call Back makes it easier for advisors to carry out their day-to-day work by improving call traffic distribution. If you pair this with call center software offering optimal voice quality, then you're doubling your chances of success! That means happy customers, happy advisors!

To find out what quality of calls your operator is able to offer you, ask them for their MOS (Mean Opinion Score). This grade assesses the sound reproduction quality of an audio codec according to the criteria defined by the International Telecommunications Union.

The MOS score ranges from 1 (very poor) to 5 (excellent, comparable with original sound). Any score above 3.6 indicates very good quality and any customers who call you will have no complaints – provided, of course, that your advisors are equipped with professional quality headsets in perfect working order and are working in an environment free of noise pollution.