Virtual Call Center Software: reliable cloud-calling from Diabolocom
Reach your client anywhere with your remote customer service thanks to Diabolocom's virtual call center capabilities.
Fast implementation
A web browser: that's all your remote sales and customer service teams need to handle their calls and emails, wherever they are.
Whether at home or off-site, using the cloud contact software Diabolocom means your agents can work anywhere.

Flexible and tailored cloud contact center
Inbound calls, outbound call campaigns, Email, SMS: your cloud contact center teams get the same features as your office teams.
Using Virtual Call Center Software means you get the most out of all your data and increase your productivity.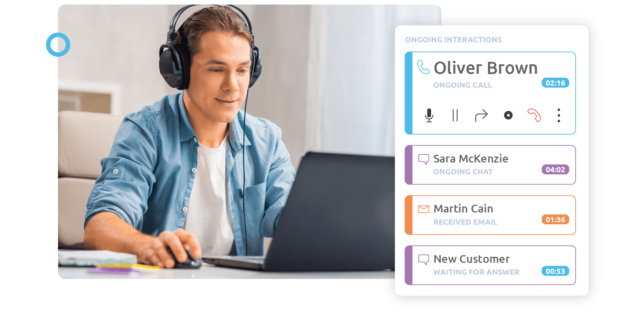 Remote team management
With a virtual contact center platform, supervisors have all the tools they need to manage their team's activity wherever they are.
Managers can monitor any in-progress interaction and tailor call strategies remotely.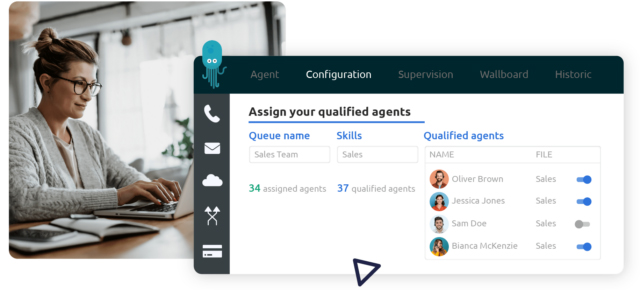 "Thanks to the voice management software Diabolocom, we managed and supervised 300+ remote customer facing agents during the pandemic. Easy, fast, efficient! "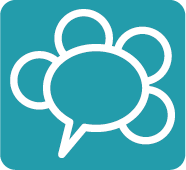 WebRTC
There's no need to install a phone or have a softphone anymore with integrated WebRTC technology! Everything is handled directly from your teams' web browser.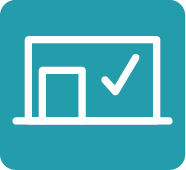 User friendly interface
Diabolocom cloud Call Center Software is quick to roll-out, has a user-friendly interface and enables you to log-in wherever you are so our customers are ready for anything!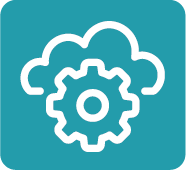 CRM integration
Diabolocom Virtual Call Center Software remotely integrates with hundreds of CRMs, including Salesforce.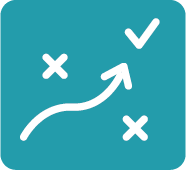 Call qualification
Help your agents with call qualification and routing, gain contextual feedback on key information, view customer records through your CRM, and share post-call workflows based on data insights.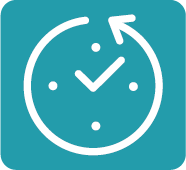 Real-time statistics and reports
Live dashboards allow managers to track performance in real-time via Diabolocom's Virtual Call Center Software.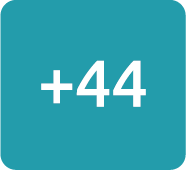 Local phone number
Give your sales and support teams a local phone number in more than 100 countries while using a virtual call center solution!
Frequently Asked Questions
What is Virtual Call Center Software?

Virtual Call Center Software is a tool that a call center uses to run operations. It's a cloud-based system that allows remote customer service and support agents to work from anywhere in the world.

Employees don't need to be in the same physical location to work together in a virtual call center setup. This call center solution is often used by businesses with remote or home-based agents.

Virtual Call Center Software keeps the team connected through features such as VoIP, call forwarding, and call recording. It also has a reporting system that helps managers monitor agent performance and identify areas for improvement.

For businesses that are moving into a work-from-home set-up or hybrid office setup, having reliable software plays a big part in the success of their customer service operations. Despite the agents' location, it maintains high efficiency and quality of service. It also provides a new and refreshing working environment where employees feel empowered to work productively.

Aside from the obvious benefits of providing a safe space for remote customer service agents, Virtual Call Center Software has a lot more to offer businesses. Virtual Call Center Software gives your company the freedom to hire top talent without geographical limitations. You are no longer limited to your location when it comes to hiring the best customer service agents for your team.

Diabolocom is a leading Virtual Call Center software provider that empowers businesses of all sizes to provide excellent customer service. Our software's powerful infrastructure, scalability, security, and flexibility compared to other well-known call center solutions makes us one of the best options on the market.
What is a cloud-based call center?

In general, a call center is a business where inbound and outbound customer calls are handled. The term "cloud-based" means this type of call center uses the internet as the primary source of its operations.

A cloud-based call center is a type of call center that uses cloud computing technology with the help of a third-party vendor who hosts the call center software. It is also a type of call center that can be operated using a web browser so there's no need to download any programs or software.

The cloud-based call center is often used by SMEs because it is more affordable than a traditional, on-site call center. Scalability is one of the main reason businesses choose this type of call center solution.

Call centers often experience fluctuations between high and low call volumes. With a cloud-based call center, you can easily adjust your plan according to your current needs. You can add more seats or lines during peak times and you can downgrade your plan when the call volume is low.

A cloud-based call center is also flexible in many ways. You can set it up the way you want and change it anytime you need to. You can even integrate CRMs and other business tools which can make your call center more efficient.
How do I set up a virtual call center?

If you're planning to set up a virtual call center, here are some of the things you need to consider:

Select your industry: know your specialty. Starting a call center business can be daunting especially if the niche or the nature of the business is not fully understood. It's best to get to know the ins and outs of your target industry first before setting up a call center that specializes in it.
Know your budget: it can cost anything from a few hundred to a few thousand dollars to set up a virtual call center. It all depends on the features you need and the size of your team. Know your budget and start from there.
Get the right tools: the tools you need will depend on the type of business you have and the services you offer. Once you get the tools and software you need, you can then create a call workflow.
Search for customers: the next thing you want is to put your call center out there and get customers. You can start by searching for businesses that may need your services. Do a competitor analysis and see what the top dogs in your industry are offering.
Recruit remote customer service agents: the best thing about having a virtual call center is that you can hire employees from anywhere in the world. There are no geographic limitations. You can post your job ad on online job boards and social media platforms.
What to look for in Virtual Call Center Software?

Virtual Call Center Software can make or break your business. It is vital to get software packed with features that can help you run your business smoothly. Aside from your company's budget, here are some factors you need to consider when choosing the right software for your business:

Type of Call Center Software.
Features and benefits.
Pricing.
Ease of use.
Scalability.
Available training.
Business tools integrations.