Diabolocom's Microsoft Teams integration for more advanced calling
Improve your business telephony's flexibility and reachability via Microsoft Teams CTI with Diabolocom's cloud-based contact center.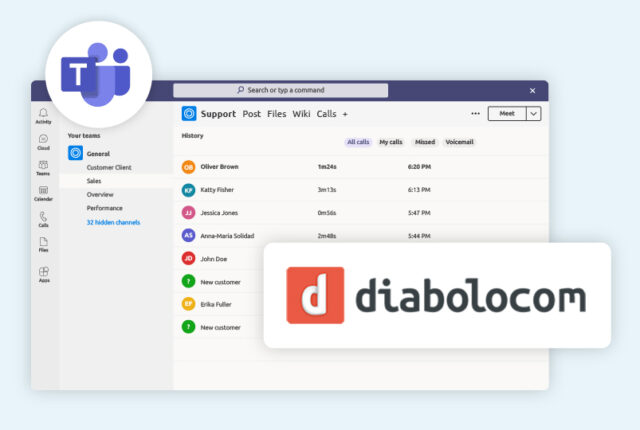 Maximum flexibility with Microsoft Teams integration
Microsoft Teams Integration provides flexible cloud calling options. All calling capabilities are integrated within Microsoft Teams CTI so your agents can use a single platform to manage their calls.

Microsoft Teams integration as a cloud telephone system
Microsoft Teams contact CTI enables your agents to make calls directly from Microsoft Teams wherever they are with the best service quality.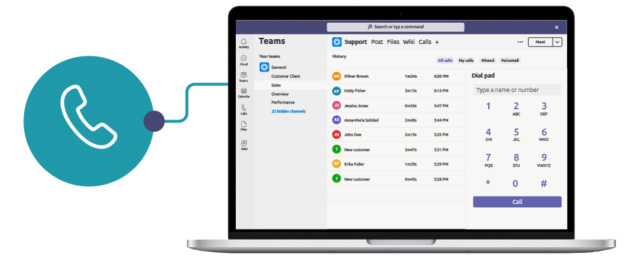 Real-time status synchronization with Diabolocom MS Teams integration
Making phone calls with Microsoft teams for call center is easy and convenient. Diabolocom's WebRTC technology means your team can build powerful voice communication.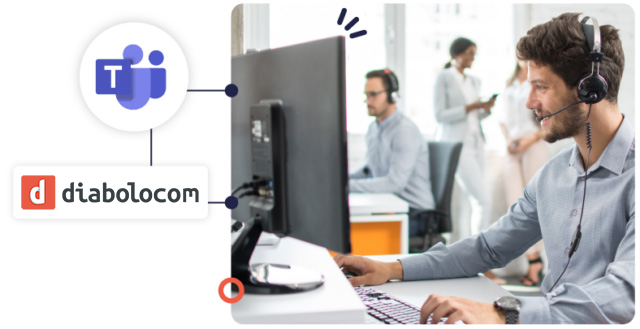 The ultimate in reachability with MS Teams telephony integration
Microsoft Teams CTI means your agent can be reached on any end device anywhere so your customer service has the ultimate level in reachability.
15+
Years of voice expertise
100%
MS Teams status synchronization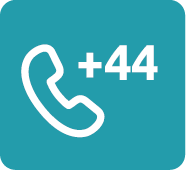 A single phone number
Your business phone number can be shared across multiple team members. All agents can have the same business telephone number that can be used for contact.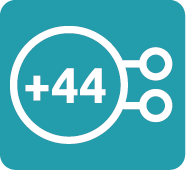 The Teams number remains hidden
The Teams' phone number can be invisible and changed to a main phone number for your business.
Frequently Asked Questions
How does Microsoft Teams work?

Microsoft Teams is a tool for remote collaboration on work and projects. The platform is a game-changing task management and communications solution that can bring your team together and allow you to reach out to customers. There are two Microsoft Teams channel types – Standard and Private.

In Standard, chats are available and visible to all members of your network. In Private, your conversations remain between the specific, designated audience. You can have channels built around specific projects, departments or other things like special events. You can hold meetings, communicate with team members, and share and edit files within each channel.
Can Microsoft Teams work for a call center?

Yes! Microsoft Teams supports customer interaction workflows and can act as a conduit for both internal and external customer connections across all channels – including chat, video, meetings, and Teams calls. There are additional cloud voice capabilities like auto attendant and call queues to help.

What is auto attendant?

The auto attendant feature is a helpful tool for call centers looking to incorporate Microsoft Teams. The purpose of an auto attendant is to route a caller or customer to the right department. Auto attendants can be set up to direct customers to specific people or departments within your organization. There is also an option to set up the auto attendant to direct callers to a call queue where they can wait for the next available agent or to a voicemail system.

Auto attendant scripts can be created using a text-to-speech file or alternatively by uploading a recorded audio file. Anyone calling can either issue voice commands picked up by our speech recognition tech or can use their phone keypad to manually input a number value.

Auto attendants can be adjusted based on regions and time zones. This is incredibly helpful for call centers doing business in multiple languages. Your business can set up as many auto attendants as it needs.

What Is a call queue?

A call queue is like a digital waiting room for customers. If you only have so many agents or customer service representatives standing by, you may need help fielding callers. Callers can be put on hold while calls are directed to available agents based on where they are in the queue. Call queues are often used in call centers receiving a high volume of traffic on a daily basis.

You can help your agents in Microsoft Teams by specifying availability i.e. you can set it up so an agent can opt-out of taking calls while in the queue. You can also set it up so calls are routed based on their availability in Teams i.e. if an agent's status is "Idle" or "Busy", you can set it up so they won't receive calls from the queue.
Can your contact center solution integrate with Microsoft Teams?

There are three different models to choose from to integrate your connected contact center solution into Microsoft Teams: the Connect Model, Extend Model and Power Model.

The Connect Model: the Connect Model uses Microsoft's certified SBCs and Direct Routing feature to merge contact center solutions with a Teams phone system infrastructure. This provides enhanced routing, configuration and system insights. Other highlights of the Connect Model include seeing when agents are available on Teams based on their status, transfers and group calls, cloud communication APIs, Teams Graph APIs and more.

The Extend Model: the Extend Model integrates with Teams using the Teams client platform, Teams Graphs APIs, and Cloud Communications APIs. It uses the Teams phone system for your contact center call needs and acts as a telephony carrier in addition to Microsoft 365. With this model, your agents can use Teams for both internal and external collaboration. They will be able to track and refer to notes with data from multiple systems before engaging with a potential customer.

Some interesting features of the Extend Model include Teams-based apps to increase your agent experience, chat and other collaboration tools, analytics, workflow management, and having Teams as the primary calling endpoint.

The Power Model: the Power Model is Microsoft's most all-round integration method and is still in development. This model enables call centers to create their own Azure-based voice applications using the basic support of the Teams calling infrastructure and client platform. Once this model is complete, contact centers will have a one-app, one-screen experience.

Diabolocom successfully and seamlessly synchronizes Teams status into your contact center.
Does Microsoft have a contact center solution?

There is the Microsoft Digital Contact Center Platform powered by Nuance AI, Teams, and Dynamics 365. This platform provides contact centers with the tools they need to directly engage with customers using voice, video and more.

The Digital Contact Center Platform has a powerful AI to improve self-service experiences, live customer support, collaboration between agents on Teams, workflow automation, advanced telephony and more.
Can Microsoft Teams be used as a phone system?

Yes. Microsoft Teams can be used as a business telephony solution. Direct routing allows Teams to replace existing Private Branch Exchange (PBX) phone systems. PBX phone systems are limited because they tend to be based in physical premises whilst a Teams phone system can operate through the cloud.

What does direct routing mean?

Direct routing refers to the PSTN (Public Switched Telephone Network) connection to Microsoft Teams. Teams users can make and receive external phone calls on any type of device with the Teams app using direct routing.

Is there another way to connect aside from direct routing?

Yes. If you would prefer another option over direct routing, you can opt for Microsoft Calling Plans. This method delivers all internal and external calls with Microsoft as the PSTN carrier using Microsoft's price plans. Microsoft has plans for local and international calls. This method is often popular with smaller organizations with fewer contact centers.