Contact Center Software by Diabolocom: A unique cloud-based interface for the ultimate customer experience
Centralize all your customer interactions on a cloud-based single platform dedicated to omnichannel contact center. 
Single interface for centralized customer interactions management
Provide your teams with the resources they need for an overview of the complete interactions history with each customer on any channel to better understand and predict their needs.
Having a 360◦ view of your prospects and customers means your advisors can set-up proactive and relevant communication on every channel.
Synchronize agent statuses throughout the channels
Provide quality and consistent customer service by synchronizing the statuses of your agent on every channel.
That means better customer satisfaction with the Diabolocom cloud contact center software omnichannel functions!
Call delegation: a single engine
Experience informative decision-making with a single routing engine for all voice and digital channels: inbound and outbound calls, Emails, Text Messages, Chat, Social Media etc.
Broaden call identification and prioritization criteria throughout the channels to ensure customer satisfaction.
A network of leading partners
What makes Diabolocom's omnichannel contact center so reliable is its strong functionalities and the standard for easy integrations by partners who are leaders in their industries.
Provide your customers with consistent service standards on every channel.
"Diabolocom offered a personalized adaptive support to Bouygues Immobilier. The implementation phase went very well, with positive feedback from our users."
Discover the Contact Center Software of Diabolocom
Diabolocom's Contact Center Software brings key features and powerful partners together!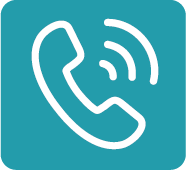 Voice
Improve inbound and outbound call management with a single omnichannel contact center.
Wield the power of the Diabolocom Contact Center Software, the European leader in inbound and outbound voice calls.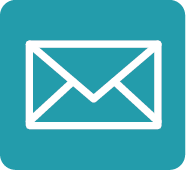 Email
Handle your emails with the same assignment rules as other channels for consistent and personalized customer interactions.
Boost productivity with customer service email management software by Diabolocom!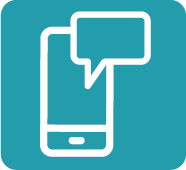 SMS
Start text conversations with your customers and automatically answer repeated customer queries.
Less processing time; more customer interactions.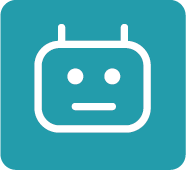 Chat, Chatbot, Voicebot, Social Media
Solutions from our leading partners!
Reach out to your customers on their favorite channel with easy integrations: Chat, Chatbot, Voicebot, Social Media and even Instant Messenger!
Gain speed and improve your customer relations with these fast integrations from our partners!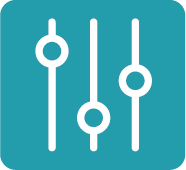 Workforce Management
Manage your workforce and improve productivity among your teams: allocate the right agents, assign the right number of agents, manage their schedules…
Update your strategy in real-time to better manage the standard level of interactions with your customers!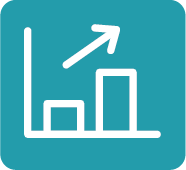 Quality Monitoring
Improve your teams' performance and make strategic decisions with your Diabolocom contact center software Quality Management solution.
Analyze your teams' overall service and performance, assess personalized or automated conversations or communication on different channels.
CRM integrations
Integrate your Diabolocom call center software to your CRM or trade tools in a few clicks such as Salesforce, MS Dynamics, ServiceNow, etc.
Centralize and manage your customer data on a single interface.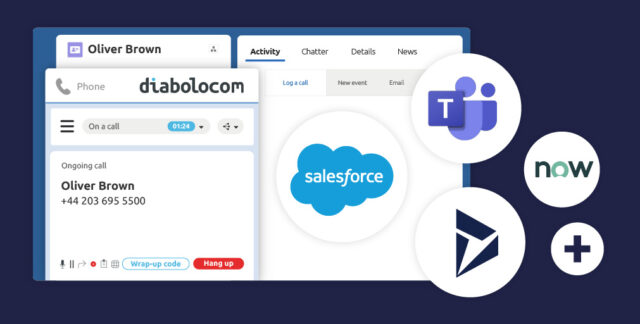 Frequently Asked Questions
What is a contact center software?

Contact center software is a solution designed to handle and manage customer interactions on all communication channels: Calls, Text Messages, Emails, Social Media, Instant Messenger. That means that instead of using one piece of software for each channel, your advisors work with a single interface where they can visualize any interaction with the same customer no matter the channel. This omnichannel overview and interactions history provides your agents with all the information they need to successfully handle queries from your customers and prospects.

Unlike call center software whose functions only apply to the voice channel, an omnichannel contact center solution provides a pool of functions that apply to all communication channels. These features help prioritize queries and automatically route them to the right agent, track contact center activity in real-time and improve agent occupancy rate. These statistics help your managers and supervisors to make successful management decisions i.e. temporarily allocating additional agents to emails if there's a high volume of queries on this channel.

Aside from functional and management aspects, natively omnichannel contact center software like Diabolocom is the only way to cover every case: anyone contacting a company nowadays wants to have different contact options AND get fast, relevant and consistent replies, no matter the channel or agent handling the queries.
Which software is best for contact center?

The best contact center software is the kind that not only meets your current needs but will grow with you as your needs change. No matter your start point (launching a contact center or replacing a current tool), you can avoid disappointment by choosing a:

Cloud-based contact center software: a SaaS (Software-as-a-Service) solution provides you with all the software's features through internet connection without the infrastructure and maintenance costs associated with on-site solutions. Another advantage is that a cloud solution means location doesn't matter: you can change your contact center/team's location without affecting your agents' work tool.
Natively omnichannel software: if you just want to start out with calls and emails, there's nothing stopping you providing other channels later to meet your customer requirements. With omnichannel contact center software by Diabolocom, you just activate – and pay for! – the channels you need. Your agents work on a single interface with an overview of interactions on every channel and all the features they need to successfully interact on the appropriate channel.
Open software: your agents use information and data from other software to provide the best service on every channel. Contact Center Software that natively integrates with your work tools – CRM, ticketing tool, ERP etc. – eliminates the need to develop specific interfaces and fast-tracks a working environment that focuses on the use and value of your customer data.

Contact Center Software that ticks these three boxes provides the flexibility and scalability your company needs (in terms of channel diversity, interactions volume and agent numbers) to create an omnichannel contact center that can handle changes in technology and your customers' interactions preferences.
How to set up a contact center?

Setting up a contact center is a strategic decision that aims to improve the relationship between the company and its audience by providing remote services with added value. Whether it be a general or specialist contact center, the success of your project relies on support from general management which alone can provide the technical resources and manpower required to fulfill the project.

In terms of management and operations, setting up a contact center involves a series of choices and decisions about the contact center's location, size and responsibilities as well as communication channels. You can go for a centralized model with all your agents together on the same system or, as current contact center software provides, a multi-site model with no ties to location.

Which channels you choose depends on your target audience and manpower although calls and emails are essential for most industries. If you start with these two channels, you can be sure to get off on the right foot. Plus, with Diabolocom's contact center solution, you can easily open additional channels (Social Media, Instant Messenger) when the need arises.

No matter your plans, choosing the right contact center software is vital. That's what determines how much wiggle room you have to manage your teams, automate certain procedures and use the synergy between communication channels and agent skills to provide your customers with the service standards they expect.
How do I start my own contact center?

Starting a contact center has become far easier since the appearance of cloud-based contact center software. These SaaS solutions significantly cut the cost of the equipment and technical skills required to set up a high standard omnichannel contact center. Naturally, you have to equip your agents with high quality computers and headsets and provide them with a workplace where they can do their job in an appropriate setting for your project to pay off quickly.

As for everything else, if you choose an advanced solution like the Diabolocom one, you immediately have all the features you need to organize your teams and query handling procedures on every channel that you decide to provide to your customers. Whereas you used to have to get specialist technicians in to implement every last routing process, your teams are now completely free to design scripts that suit the specific needs of your business.

The benefits of an intuitive contact center software like Diabolocom are just as instant for your agents: having an omnichannel overview of interactions avoids them toing and froing between different software; they always know the queue status and which queries to handle as a priority. That means they can focus more on customer queries since repeat/non-value-added tasks are automated and more common/simple queries are directed to selfcare, online or voice channel tools.

What sets Diabolocom apart if you're starting your own contact center? A telecom and internet operator position that provides your contact center software with a high standard of availability anywhere in the world and teams that can support you throughout your project.
What are the 4 elements of a contact center?

You need to consider the following 4 aspects when you start a contact center:

Infrastructure and location: although you can now easily create completely virtual contact centers with agents working from home for example, most contact centers have a physical presence. This centralized set-up was originally due to the need for a costly technical infrastructure. It encourages teamwork and helps agents build new skills. With a cloud-based contact center solution, you can forget about the infrastructure aspects. However, a location in a specific labor pool increasingly depends on the labor pool having the profiles and skills you need.
The agents: the life force of any contact center. No matter what your contact center is for (customer service, sales canvassing, debt collection, helpline etc.), you'll make your agents want to push themselves and be loyal to you by providing them with good working conditions, tools that make their everyday lives easier, good support and career prospects.
Technology: no technology, or rather no contact center software, means no contact center. And some are better than others! Choose a natively omnichannel cloud-based software with all the features you need to structure your contact center traffic and enable your agents to fulfill customer queries on all communication channels.
Monitoring and reporting: you can't efficiently manage a contact center's activity without supervision or analyses tools. In addition, since you have performance and customer satisfaction goals to meet, you can't do it without reporting tools. Diabolocom dashboards provide your supervisors and managers with real-time activity statistics and key indicators so they can make good management decisions, pin-point their agent training and support areas and constantly improve the standard of service and performance at your contact center.